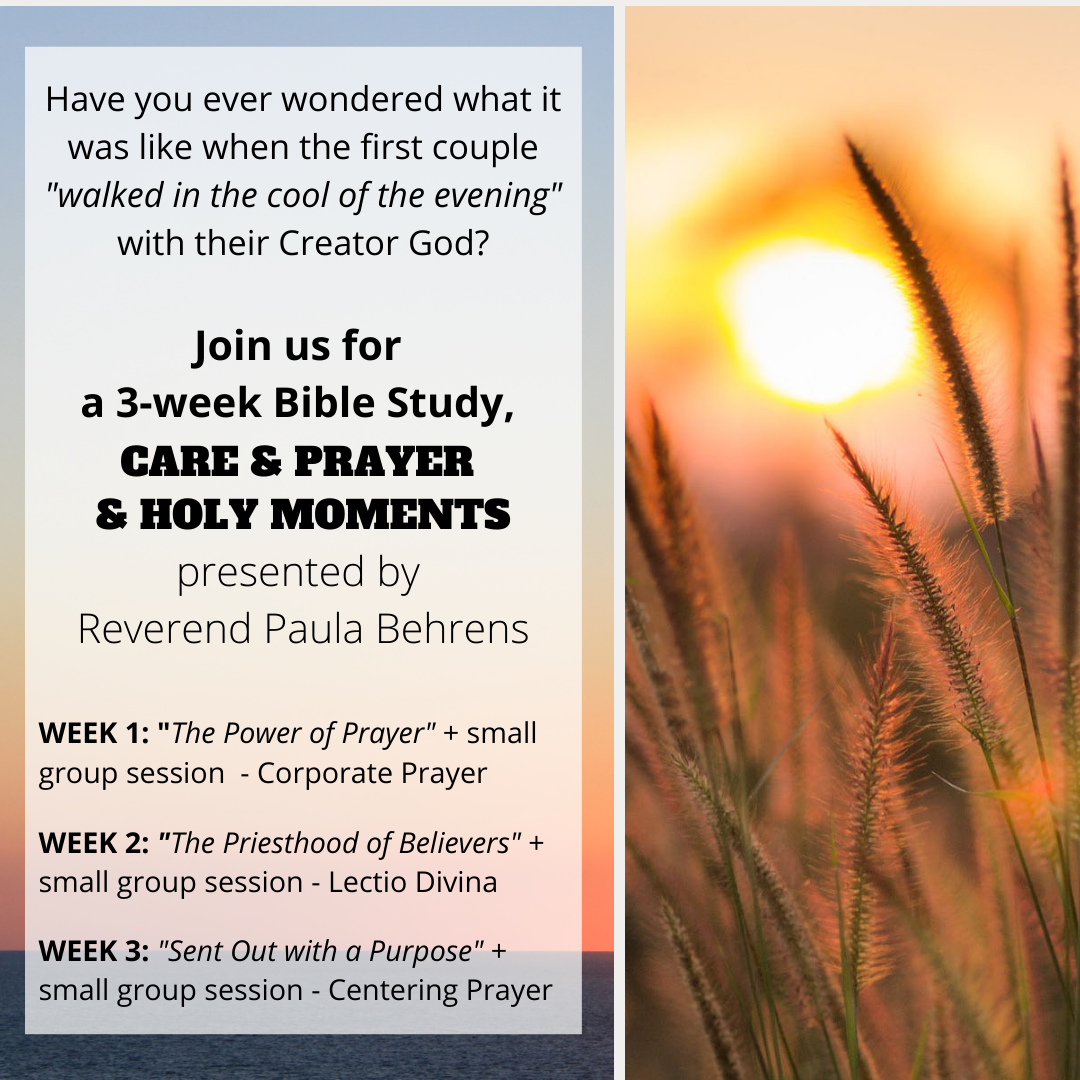 Nov 10, 2021 06:30 PM

–

Nov 24, 2021 07:30 PM

Central time
Have you ever wondered what it was like when the first couple "walked in the cool of the evening" with their Creator God?
Join us for a 3-week Bible Study
by Rev. Paula Behrens
Bear Creek United Methodist Church
(Wednesdays @ 6:30 PM in the Worship Center)
16000 Rippling Water Drive
In our opening session (November 10) you will learn about the healing gift of prayer and anointing with oil,

as taught by James in the first century Church

. You will also gain a little insight into why Moses was instructed to anoint, not only Aaron and the priests, but also everything else in the Tabernacle with a Holy blend of oils, as prescribed by God, Himself.

In a small group setting you will have an opportunity to experience

a liturgy of prayer

as we breathe in the healing aroma of Frankincense.

In our 2nd session (November 17) you will learn all about the duties and practices of the Old Testament priests as we ask the question: What is the connection between the Old Testament priesthood and the New Testament "priesthood of believers" today?

In a small group setting you will have the opportunity to experience another way of praying called

Lectio Divina,

as we continue to experience the healing combination of prayer and the anointing with oil.

In our 3rd session (November 24) you will learn about another way to pray, one that Jesus was familiar with, as He often times went away "to a quiet place" so as to listen for the guidance of His Heavenly Father. You will learn about anointing with oil and the intricate role that it played in the life of Jesus.

We will close our "Prayer & Care & Holy Moments" Bible study in a small group setting, this time on

Centering Prayer,

as we continue to experience the healing benefits of aromatherapy.
* Participants will receive a guide each week by Rev. Behrens:
The Power of Prayer
The Priesthood of Believers
Sent Out with a Purpose
Okay, are you ready to gain a deeper understanding of the mission and ministry, not only of the early Church, but also of the Church today?